Q-Power 107 Series Hydraulic Mobile Crush and Race

A Hydraulic Mobile Crush and Race designed for maximum efficiency, everywhere
0
Weight: 1790 - 1835 kg
Dimensions: 1785mm w x 2670mm h x 5970mm l (When set up.)
Product Code: 1078
* Head Scoop Optional
Full Video Transcript
Arrowquip's new hydraulic mobile crush for cattle with 8' race comes with the new Q-Power 107 Series, the premiere hydraulic cattle crush of the era. From the new electric jacks to the superior hydraulics, this system has been designed with cattle flow and ease of use for operators in mind. With the new 3E yoke gate design and Easy Flow Race removable panels, plus everyone's favourite true rubber floor, everything is designed with cattle behaviour in mind to keep your cattle flowing in the right direction.
This portable duo allows you to do it all, and so much more in way less time.
Get My Q-Power 107 Series Hydraulic Mobile Crush and Race Brochure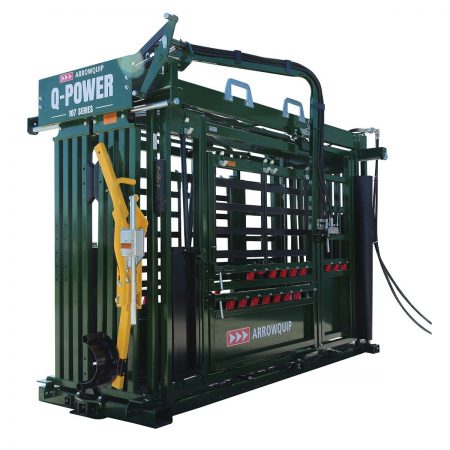 Q-Power 107 Series Hydraulic Cattle Crush

The NEW Q-Power 107 Series is at the forefront of this powerful duo. With superior, fast-touch hydraulic response and unparalleled access, this portable hydraulic crush enables you to do your tasks faster, safer, and much easier than ever before.

Easy Flow Race

The new and improved Easy Flow Adjustable Cattle Race allows you to control what cattle see with two NEW removable panels that that can be arranged in a variety of ways. The races narrow down towards the centre and are cradle-shaped to ensure that your cattle keep moving forward in a smooth, straight line.
Request My Product Demo
Hydraulic Jacks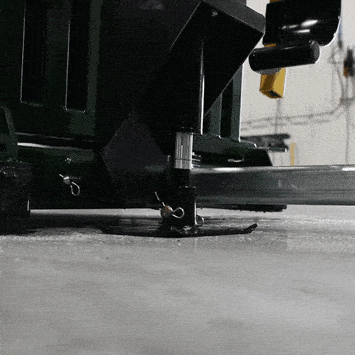 The Q-Power 107 Series portable hydraulic cattle crush and race is now offered with hydraulic jacks. The Innovations Team has worked diligently to introduce these jacks based on market feedback from consumers looking for an easier to use jack option.
The jacking system now features a 165 AMP Power Unit, 12V battery with 200 AMP breaker to protect the power unit, and military grade 12W Solar Panel that keeps the battery in optimum condition with constant pulse technology. Both the main jack and front hitch jack are powered by the hydraulic jacks, and the selector valve allows the operator to control which jack is being raised or lowered. The unit is easily charged with the terminals on the side of the power unit, and includes a custom designed hydraulic manifold for accurate flow division and load hold.
SPECS:
- Lift and lower the unit easily with a fully 165 AMP hydraulic jacking system
- Main jack and front hitch jack are both hydraulically powered for faster setup and tear-down
- 12-watt military grade solar panel uses pulse technology to keep the battery in optimum condition
- Powered by a 12V Battery with 200-amp breaker to protect the motor
- Terminals located on the outside of the box for easy charging and jumping
- Control pendant manages both jacks from a single point with a selector valve to switch between jacks
- Control pendant is magnetic and can be attached to the chute easily
- Jacks are contained in a sheet metal jack box which is powder-coated for longevity and durability
- Fully enclosed jack box features a hinged lid, latch, and optional lock for security purposes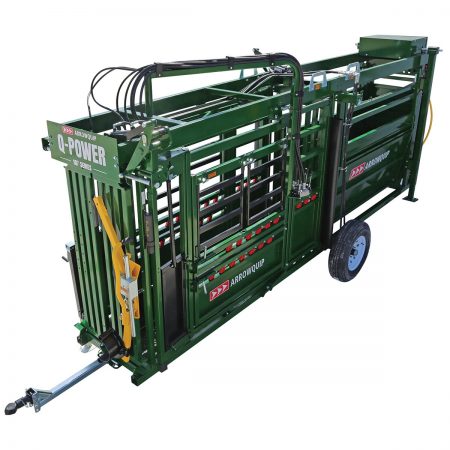 New Electric Jacks [PATENT-PENDING]

All it takes is the push of a button to lift your new hydraulic mobile crush and race. The electric jacks feature a 24V system, powered by two maintenance-free 12V Arrowquip AGM batteries connected in series. The new electric jack system can lift and lower the unit in under two minutes. A secondary bulldog jack at the front of the crush simplifies the process of hooking the unit up to your towing vehicle.

Engineered to Move

This hydraulic mobile crush is engineered with portability in mind. The new, enhanced frame boasts 51mm x 153mm beams at the top and 76mm x 76mm beams at the bottom, ensuring the structural integrity of your unit. Additionally, the improved hitch has an added gusset for support, multiple height options, and the wheels are easily installed and removed with two pins.
Request My Price
Contact Arrowquip
Thank you for your interest in Arrowquip! Fill out the short form below and someone from our team will contact you within one business day. In the meantime, you can also check out our FAQ section.
Q-Power 107 Series Hydraulic Mobile Crush and Race Specifications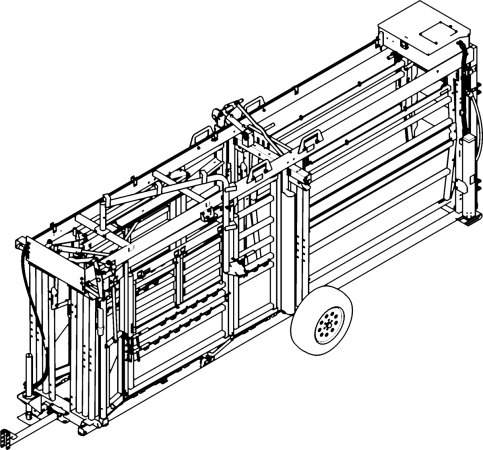 3-Year Hydraulic Cattle Crush Warranty
Hydraulics are controlled from the pivoting swing arm: 3E Yoke Gate, 3E Rear Gate, Squeeze, Head Sweep (Optional)
Hydraulic squeeze ranges from 750mm fully open to 195mm fully closed
Improved wide-range pivoting swing arm has a larger range and allows you to operate the hydraulic controls anywhere along either side of the crush
New yoke gate design uses light to draw cattle into the crush
Curtain-style yoke gate opens to a full 762mm top to bottom for cattle to exit the crush
Poly-coated slam latches eliminate metal clanging
Two rows of rump fingers ensure safety no matter the size of the animal
Poly-composite rump fingers are engineered to endure high pressure
Vet door opens in both directions for a full 180° of manoeuvrability
Low-profile latch ensures the vet cage door will not swing to the inside of the crush when slammed shut
Swing-out top and bottom access doors can be used individually or together to access the entire animal
Side access panels are removable and can be configured in a variety of positions to suit your farms needs
324mm top to bottom needle door access
New drop-down needle bar allows for quick injections
Rectangular tubing limits cattle bruising
Pivot and latch points feature poly bushings for silent operation
True virgin rubber flooring dampens sound and provides great traction
Rubber floor is backed by a lifetime guarantee
Mount brackets enable you to add load bars or secure the crush to concrete
Cradle-shaped Easy Flow Race section ranges from 750mm to 457mm in width
Both side panels drop down fully, allowing the farmer to access the animal in case of emergency
Safety latches on the Easy Flow Race side panels add security and control when adjusting, and ensure the sides will not drop accidentally
Easy Flow Races come with removable panels so you can control what cattle see in the race
Single piece steel frame has been reinforced with new 51mm x 153mm beams that run the length of the unit