Cattle Vet Cage

The Safest Way for Farmers and Vets to Work On Cattle
0
Weight: 148 kg
Dimensions: 1016mm Wide x 2032mm High x 1047mm Long
Product Code: VET
Arrowquip's Vet Cage provides a safe space for veterinarians to perform their important work. Featuring sheeted doors to prevent cattle distraction, heavy-duty construction, and a low-profile latch that ensures the doors will not swing through when slammed shut. The Vet Cage can also be used as a pass-through for operators, adding versatility to your cattle handling system.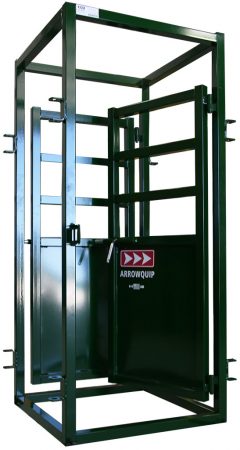 Versatile

The Vet Cage can be placed immediately behind your crush for use as a vet cage, or can be used at any point within your handling system to function as a safe pass-through for handlers to move from one side of your system to the other.

Improved Latch

An improved slam latch ensures that the door will not swing inside the crush when slammed shut from the outside. The latch can also be locked into the open position for handlers to swing the door to the inside of the cage as well.
Request My Product Demo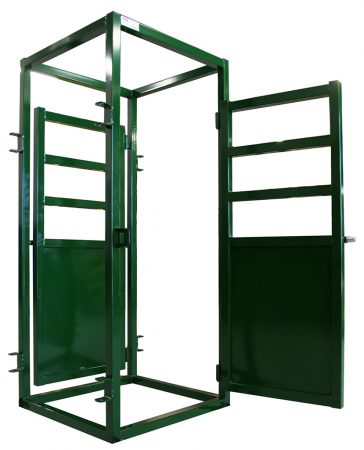 180° Vet Cage Doors

The doors of the Vet Cage open to a full 180° in and out of the crush, allowing handlers to walk through the vet cage easily.

Sheeted Doors

The sheeted lower panels on the Vet Cage ensure there are no foot traps for cattle when they are passing through the Vet Cage within your handling system.
Request My Price
Contact Arrowquip
Thank you for your interest in Arrowquip! Fill out the short form below and someone from our team will contact you within one business day. In the meantime, you can also check out our FAQ section.
Cattle Vet Cage Specifications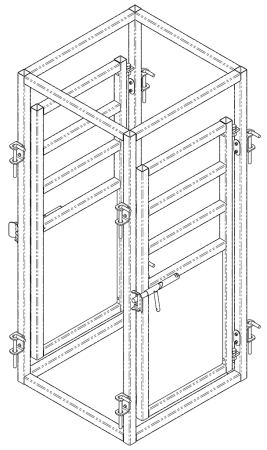 Vet Cage doors open in both directions for a full 180° of maneuverability
New low-profile cam-slam latch provides added security when closing the doors
Can be used as a pass-through at any point in the system
Sheeted doors prevent animal distraction when they are being treated, and eliminate foot traps