BudFlow® Cattle Forcing Pen
A Cattle Force Pen Built Around Animal Science
2 models available:
Single Race Exit | Double Race Exit
View model details below
Arrowquip's BudFlow® Forcing Pen uses natural cattle behaviour to create efficient flow. By using the natural instinct of cattle to turn back to where they last came from, cattle are guided into the race effortlessly. This allows you to eliminate animal stress and speed up the processing of cattle! Additionally, if you encounter a particularly ornery animal, the force gate can be engaged to encourage cattle to move into the race with ease. The Budflow® Cattle Forcing Pen is renowned by ranchers around the world as the easiest and most efficient way to work your cattle.
Download Your BudFlow® Forcing Pen Brochure (2.63 MB)
Choose your BudFlow® model
Model: Single Race Exit

Weight: 609 kg / 904 kg

Dimensions: 4923mm Wide x 2181mm High x 4831mm Long / 6131mm Wide x 2184mm High x 6065mm Long

The standard BudFlow® Model includes a Single 90° Race Exit, allowing you to work cattle into a single lane alley quickly and effectively, and is designed specifically to work with the Adjustable Easy Flow Cattle Race.

Available in 8' and 10' Diameters.

Model: Double Race Exit

Weight: 851 kg

Dimensions: 6131mm Wide x 2184mm High x 6065mm Long

In select handling systems, a Double Cattle Alley can significantly improve processing times! By allowing cattle to walk side by side through your system, you eliminate the likelihood of cattle stalling and can improve flow through your handling system. For systems that feature a double alleyway, the BudFlow® Forcing Pen is available with a Double 90° Race Exit.

Available in 10' Diameter.
Cattle Psychology working for you!

How the BudFlow® Works:

- Cattle enter the BudFlow® System
- Cattle turn back to where they entered naturally
- Cattle see the opening to the race 
- Cattle move into the race with no force 
- You can handle more cattle in less time, reducing the cost of labour

Sheeted Panels

The 1346mm sheeted panels on the BudFlow® Forcing Pen assists in flow and allow the operator to utilize point of balance cattle handling techniques. When cattle can see the handler, it allows you to move cattle efficiently through the system without the need for the force gate.
Request Your Product Demo
Animal Science

The concept behind the BudFlow® is based on two major principles of cattle behaviour:

- Cattle want to return to where they have been
- Cattle want to see you

These principles are key to the functionality of the pen, in addition to ensuring the safety of the handlers. With BudFlow®, there is no need to be in the pen with the cattle, keeping you safe!


Heavy Duty Construction

BudFlow® Forcing Pens feature heavy-duty tubular construction and 1.63mm steel, ensuring the long-term durability of your equipment.
Request Your Price
Contact Arrowquip
Thank you for your interest in Arrowquip! Fill out the short form below and someone from our team will contact you within one business day. In the meantime, you can also check out our FAQ section.
BudFlow® Cattle Forcing Pen Specifications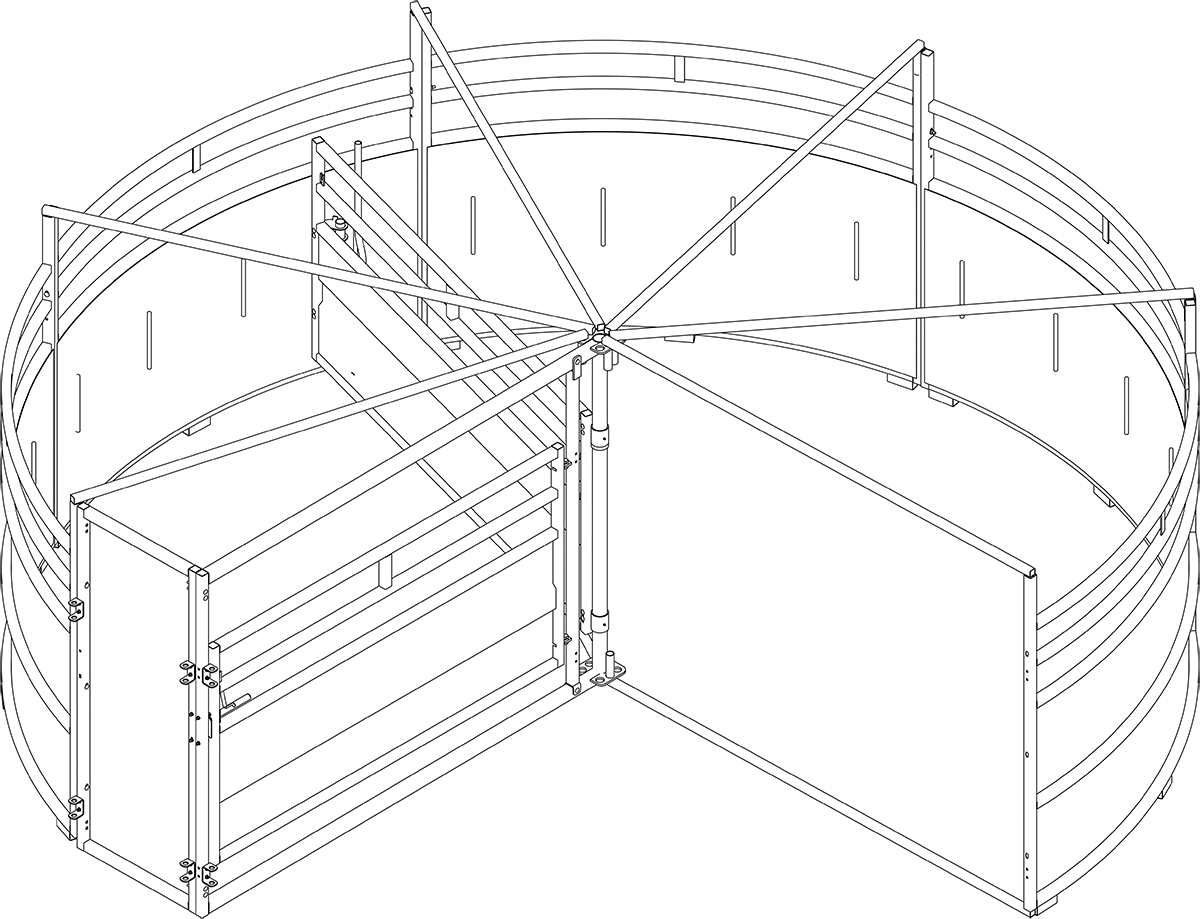 Adheres to low-stress cattle handling techniques
Works with cattle psychology
Sheeted panels allow the operator to utilize point of balance handling techniques
Force gate can be used to assist animals in the right direction, if necessary
Force gate is designed to ensure operator safety
Rectangular tubing limits cattle bruising and injury
Sheet metal is caulked to reduce noise
High capacity
Simple four-step assembly
Durable clips connect the BudFlow® Forcing Pen with other Arrowquip products seamlessly