Q-Catch 87 Series Cattle Crush

A Cattle Crush where proper cattle handling meets precision engineering
5
2 models available:
Deluxe Vet| Standard
Product Code: 8700
* Head Scoop Optional
Full Video Transcript
Welcome to a new era of cattle handling. The NEW Q-Catch 87 Series cattle crush is stronger, faster, and quieter than any model before it. From the line-up of cattle crushes that has redefined the meaning of silence in farms across the globe, the latest Q-Catch model takes it to the next level, providing a truly silent cattle handling experience.
The NEW Direct Drive yoke gate technology provides rapid response, while the 3E Yoke Gate bars draw cattle into the crush to prevent stops in the flow of cattle through the system for increased efficiency. When combined with the 87 quiet points found from front-to-back, enhanced heavy-duty frame, and modifications throughout that are designed to make cattle handling as easy as it can possibly be for you, this crush can't be beat.
All of this is backed by the industry's longest and most extensive 7-Year, No Bull Warranty. No matter where you look, you won't find a better investment than the Q-Catch 87 Series cattle crush.
Get My Q-Catch 87 Series Cattle Crush Brochure
Choose your Q-Catch model
Model: Deluxe Vet

Weight: 1210 kg

Dimensions: 1395mm Wide x 2420mm High x 3430mm Long

If you want maximum control, versatility, and freedom in your cattle crush, look no further than the Deluxe Vet. Including all the features of the Q-Catch 87 Series, this crush takes your livestock management to the next level with a full-length dual parallel squeeze. Having the vet cage squeeze with the crush allows you to narrow the crush before cattle enter it, so there is no point within your system that a cow or calf can turn around!

Model: Standard

Weight: 785 kg

Dimensions: 1397mm Wide x 2420mm High x 2415mm Long

Working with limited space? The Standard Model of the Q-Catch 87 Series allows you to work your cattle in the most safe and effective way possible, even if you cannot fit a full-sized crush and vet cage into your yard. Including all the standard features of the Q-Catch 87 Series, and offering a variety of add-ons designed to increase your productivity, the Standard is an effective option for farms where space is limited.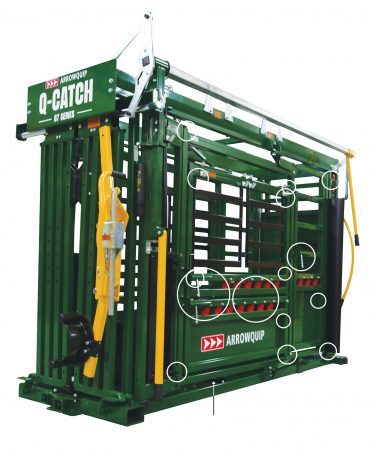 Quieter Than Ever Before

With over 87 quiet points on the crush including the new poly-coated slam latches and bushings, anyone who works cattle in the Q-Catch 87 Series will understand why it is truly the world's quietest manual cattle crush.

Longest Manual Cattle Crush Warranty

All Arrowquip manual cattle crushes are backed by a 7-Year No Bull Warranty, along with lifetime guarantees on the virgin rubber floor, rump fingers, and the patented locking mechanisms.
Request My Product Demo
A Crush that Simplifies TB Testing
The Q-Catch 87 Series cattle crush is an ideal solution for TB testing, offering better access to the neck of the animal than other crushes on the market. The 324mm TB access area right at the front of the crush allows your vet or testing personnel can easily access the neck of your cattle to complete SICCT testing. Access to the neck is available on both sides of the crush, ensuring that you can complete testing quickly and effectively. An added bonus with the Q-Catch is that it is a low-stress environment for your livestock, so handling them regularly will not cause unnecessary stress.
For more information, visit our TB Testing page.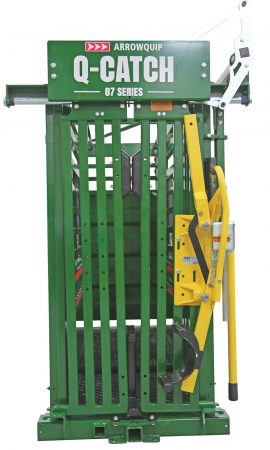 3E Q-Catch Yoke Gate [PATENTED]

The redesigned Q-Catch yoke gate features a barred style that uses natural cattle behaviour to your advantage. When cattle can see light and open space at the end of the crush, they are drawn towards the yoke gate with little to no handler intervention.

Heavier Duty Q-Catch Cattle Crush

The Q-Catch has been upgraded with a heavier duty cattle crush frame that features 51mm x 152mm top beams and 76mm x 76mm bottom beams for enhanced durability.
Request My Price
Contact Arrowquip
Thank you for your interest in Arrowquip! Fill out the short form below and someone from our team will contact you within one business day. In the meantime, you can also check out our FAQ section.
Q-Catch 87 Series Cattle Crush Specifications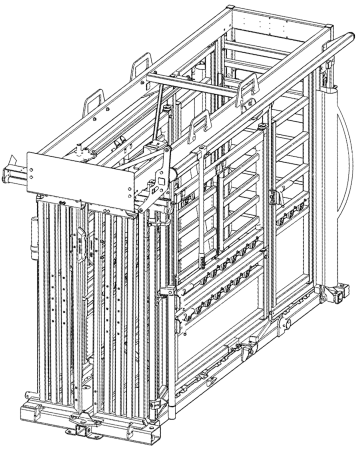 7-Year Cattle Crush Warranty, best in the industry
New yoke gate design uses light to draw cattle into the crush
Q-Catch yoke gate operation handle can be situated anywhere along the side of the crush
Curtain-style yoke gate opens to a full 762mm top to bottom for cattle to exit the crush
Easy to use push-pull squeeze handle
Squeeze ranges from 750mm fully open to 195mm fully closed
The Q-Catch squeeze locking system features a dual friction lock with infinite adjustments
New Direct Drive system provides faster yoke gate response
Poly-coated slam latches eliminate metal clanging
Two rows of rump fingers ensure safety no matter the size of the animal
Poly-composite rump fingers are engineered to endure high pressure
Ambidextrous rolling rear gate that can be operated from either side of the crush and is reversible
The rolling rear gate running track is top-mounted, eliminating the issue of build-up
Vet door opens in both directions for a full 180° of manoeuvrability (Deluxe Vet only)
Low-profile latch ensures the vet cage door will not swing to the inside of the crush when slammed shut (Deluxe Vet only)
Swing-out top and bottom access doors can be used individually or together to access the entire animal
Side access panels are removable and can be configured in a variety of positions to suit your farms needs
324mm top to bottom needle door access
New drop-down needle bar allows for quick injections
Rectangular tubing limits cattle bruising
Pivot and latch points feature poly bushings for silent operation
True virgin rubber flooring dampens sound and provides great traction
Rubber floor is backed by a lifetime guarantee
Mount brackets enable you to add load bars or secure the crush to concrete
Transport-ready with the new wheel kit add-on
Yoke Gate locking pin adds safety when transporting the cattle crush, or completing maintenance