Q-Catch 54 Series Cattle Crush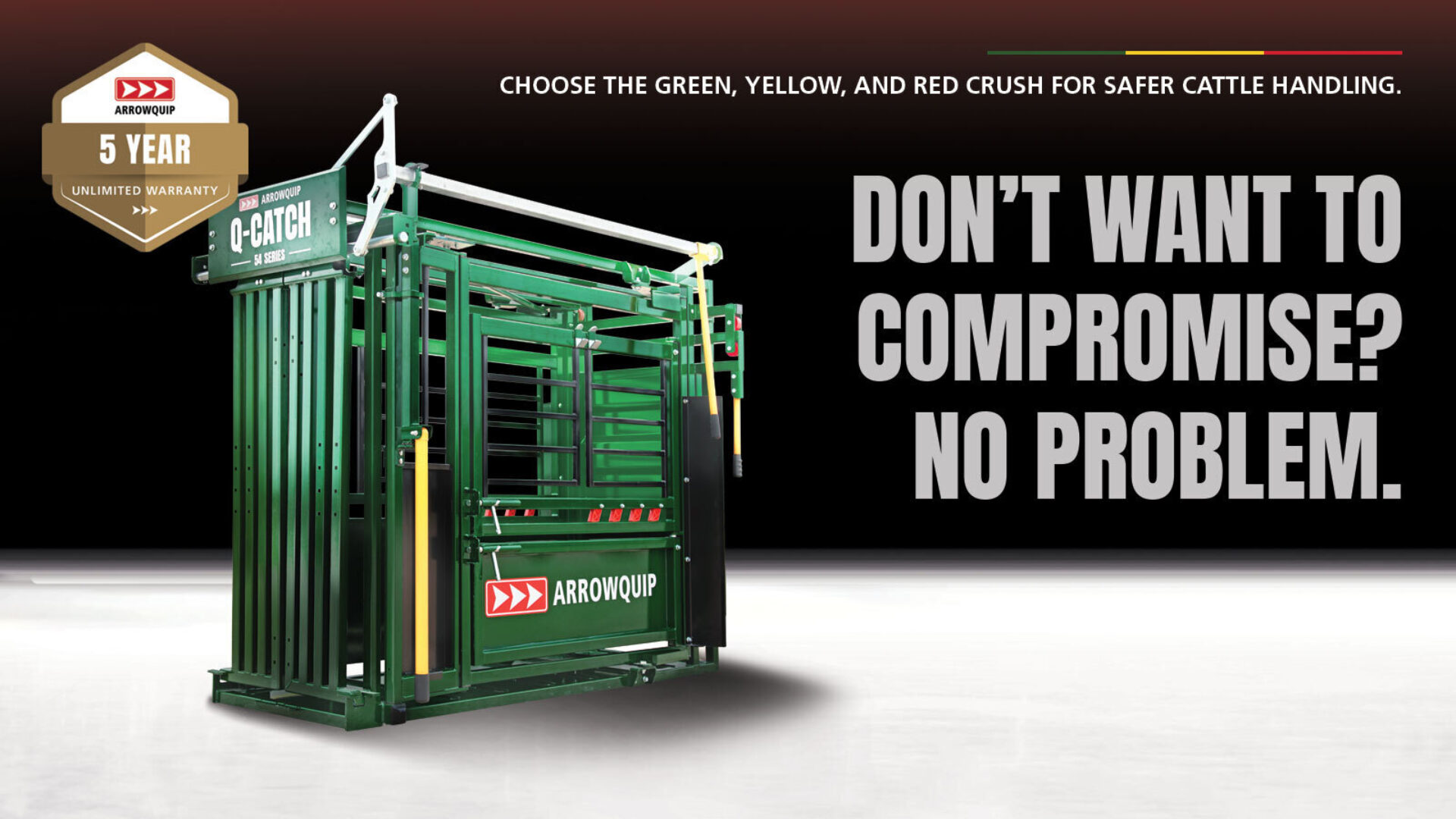 Read Full Video Transcript
The new Q-Catch 54 Series cattle crush is Arrowquip's answer to the needs of smaller cattle farmers and cattle operations. In a market that rarely improves to meet the needs of small farmers, the new 54 Series cattle crush emerges as a safer, easier way for producers to manage their livestock at an affordable price point for any operation.

The 54 Series provides the access, durability, and quality that cattle producers rely on. While you may not need a heavy-duty cattle crush or one that can take big numbers, you still need a cattle crush that you can trust will be up to the task at hand every time. That is where the 54 Series shines. Not only is this cattle crush backed by 5-Year Warranty and lifetime guarantees on locking mechanisms and rump fingers, the 54 Series is backed by industry-leading customer service that will keep your crush running reliably for years to come.

When it comes time to upgrade your cattle crush, you need an investment you can trust, and a crush designed for working cattle in the 21st century. You need a Q-Catch 54 Series.
Fill out this form to receive your Q-Catch 54 Series Squeeze Crush brochure:
Product Features
High-quality cattle crush floor

Featuring a formed steel floor with 12.7mm treads for excellent traction as cattle walk through the crush, the 54 Series provides a significant upgrade from the checker plate steel often seen in cattle crushes. Sternum bar mount included standard for quick and easy installation.

Excellent Cattle Access

The 54 Series offers excellent access on the working side of the crush, including standard emergency exit, top and bottom swing-out access doors, two swing-out side access panels, and a fully removable needle access area for easy tuberculosis testing. For extra access, add the Trimming Bar so you can fully open the emergency exit while keeping cows and calves safely contained for branding. Access on offside is limited to swing-out access panels only.

Quality craftsmanship at an affordable price

The Q-Catch 54 Series is Arrowquip's answer to the needs of small cattle producers and farmers. Offering all of the features that cow-calf operations need such as tuberculosis testing access, injection access, emergency exit, and more, the Q-Catch 54 Series provides a safe and effective space to complete all of your processing tasks.

Full Width Cattle Crush

For your biggest bulls and widest cows, the Q-Catch 54 Series opens to a full 762mm from top to bottom on the parallel squeeze, allowing you to safely contain your largest animals. In addition, the crush narrows down to just 197mm from front to back when the squeeze is fully closed to contain even the newest calves in your herd.
See what Others Have to Say
Want more information?
Contact Arrowquip
Product Specifications
5-Year cattle crush warranty
Unique barred design uses light to draw cattle towards the yoke gate
Q-Catch operation handle can be situated anywhere along the side of the crush
Curtain-style yoke gate opens to a full 762mm top to bottom
Easy to use push-pull squeeze lever
Squeeze ranges from 750mm to 197mm
The squeeze features a dual friction lock with infinite adjustments
Direct Drive system on the Yoke Gate provides faster and more reliable yoke gate response
Four rump fingers on the top access door prevent cattle from backing up
Poly-composite rump fingers are engineered to endure high pressure
Rolling door with top mounted track allows handlers to control the flow of cattle quickly and effectively
The rolling door running track is top-mounted, eliminating the issue of build-up
Vet door opens in both directions for a full 180° of maneuverability (Deluxe Vet only)
Low-profile latch ensures the vet cage door will not swing to the inside of the crush when slammed shut (Deluxe Vet only)
Swing-out top and bottom access doors can be used individually or together to access the entire animal
Swing-out side access panels allow handlers to apply pour on easily
324mm top to bottom needle door access
Fully removable injection access panel for TB testing
Rectangular tubing limits cattle bruising
Formed steel floor provides excellent traction for cattle
Available Models
Model: Deluxe Vet

Weight: 774 kg

Dimensions: 1417mm Wide x 2413mm High x 3284mm Long

Looking for a fully loaded cattle crush with palpation cage at an affordable price? The Q-Catch 54 Series cattle crush is the perfect fit for your operation. Complete with a full-length palpation cage for excellent access, the Deluxe Vet model allows you to complete all of your processing tasks with ease.

Model: Standard

Weight: 665 kg

Dimensions: 1417mm Wide x 2413mm High x 2606mm Long

The Q-Catch 54 Series Standard Model offers everything cattle producers need, at an accessible price point for any small farm. Feature for feature, the competition can't compete with the new 54 Series. Looks like there's a new crush in town.
Available Add-Ons / Options
Contact Arrowquip
Thank you for your interest in Arrowquip! Fill out the short form below and someone from our team will contact you within one business day. In the meantime, you can also check out our FAQ section.
Product Reviews